Step into Spring with Stylish Hardwood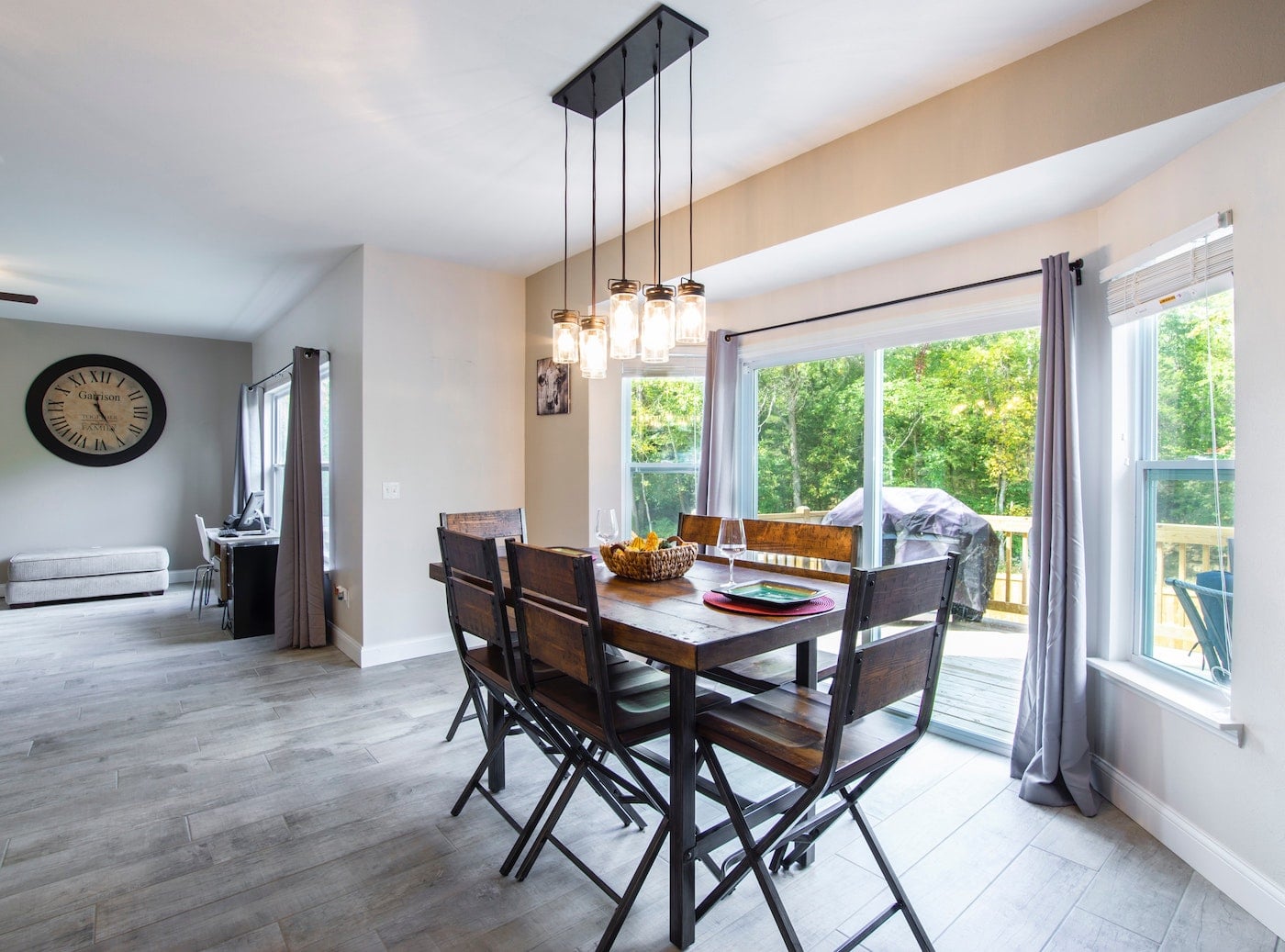 Now that we're a few months into the new year, we're seeing tons of new hardwood flooring trends for 2019, ranging from gray stains to wider planks. Every room in your home requires a different kind of flooring, given that each room serves a different purpose. Living room areas and kitchen areas are much more high-traffic spaces than, let's say, your bedroom.
If you're looking to modernize, stay trendy and give your home a new look without breaking the bank or mistakingly investing the wrong floor – here are a few things to keep in mind and some options to consider.
Though hardwood can give any room a polished, classic and gorgeous looks – it simply doesn't belong everywhere, particularly where there is moisture. Remember, wood is a porous material that may grow mold or absorb water and expand, causing irreversible damage – avoid using it in lower levels, like basements. However, the benefits far outweigh the pitfall – hardwood is a classic, after all.
A Few Benefits of Solid Hardwood Include:
Hardwood tends to have a lifespan anywhere between 80 to 100 years, increasing the value of your home
Creates a good, strong, solid floor structurally
Can be found in longer lengths than engineered hardwood flooring
Typically less expensive than the higher end engineered wood flooring
Can be sanded and refinished multiple times, if needed
The only flooring that increases the value of your home
Highly recommended by allergist as hardwood flooring does not cause allergies
Our Favorite Hardwood Flooring Trends of 2019
As times change, so has the perception of hardwood floor. Always seen as a classic and traditional choice, it became a sustainability issue – causing those looking for environmentally friendly sounding options. Most recently, the Bamboo flooring craze took over and many homeowners are finding the many downfalls of this "cheaper and environmentally friendly" flooring or engineered hardwood (as it cannot be refinished to fix scratches or stains, really), but engineered wood does have its place in warmer regions.
In the case of Bamboo, the truth is – bamboo is a grass and, naturally, does not hold up well to water, foot traffic, pets or even scratches. Many homeowners have found themselves paying more to remove bamboo flooring and the glue on the subfloor than the floor itself.
Hardwood is by-far the strongest, most durable, flexible (and trendiest) way to go!
Colors Across the Board (or planks)
The trend towards darker and darker colors keeps rising, leading to an evolution in the availability of variations and styles for homeowners. Darker floors are of particular interest to customers with no children or pets (as dark floors show more damage) or buyers who LOVE dark floors, but want something a tad lighter for easier maintenance (dark walnut, antique brown, coffee brown or special walnut, or a blend).
Cool tones are still all the rage. For example, gray hardwood flooring has been an increasingly popular and stylish option, today we are seeing variations in blends with browns, beiges, dark brown and even blacks/ebonies.
In contrast to this, we're also seeing an increase in going natural, light and muted with the tones of your hardwood. There's a growing preference to bring out the yellow to cool down the tone for a farmhouse style, natural appearance.
Environmentally Friendly
This is a movement with no end in sight. Consumers are looking for environmentally green and sustainable options. Homeowners are looking to feel confident about not only the appearance of their flooring, but also where it came from, that it's natural, recycled, or renewed.
Though many people turned to bamboo for this, it turned out not to be as environmentally friendly as presumed because of the nature of transporting bamboo material from China, the toxic adhesives and probable preservatives in the packaging.
Once again, there's nothing better than homegrown, American solid hardwood!
Planks, Wider Than Ever
It's no wonder homeowners are loving wide plank – they make any space look much larger and much better! These wider planks, additionally, can soften a modern homes edge while offering older homes a rustic and authentic touch.
Over the decades, wide planks have grown increasingly popular and are typically preferred over the standard 2 ¼" strips from the 1930's to the 1990's. These days, it's rare to see anything below 3 ¼" for new installations – unless we're matching existing flooring, of course.
Textured Hardwood
Yes, we all love smooth surfaces, floors included. Still, we're seeing demand for textures like hand-scraped and fully distressed floors. Why? Well, it's a wonderful compliment for industrial, shabby chic or alternative looks that you can play around with over the years as your furniture and decor style evolves.
Make it Minimal
Minimalism is king when it comes to style and people are looking at their floors first before considering the layout of the room(s) or its flooring, with a lean towards single width planks in a straight lay, rather than complicated patterns like chevron, herringbone, diagonals, etc.
This is a great look if you're searching for a clean look with little distraction. By creating this kind of balance, you can reduce the appearance of clutter while giving yourself all the space in the world to decorate to your heart's desire!
Hardwood floors are our favorite, did you see anything you liked?
Give us a call for your free estimate today!