Do You Know Joe? How Carpets in the Park Has Created A Lasting Chicago Legacy
When you've been in the flooring business for over 40 years, not only do you become the jack of the trade, you also learn a few things along the way about which flooring option works best in basements or how to choose the right carpet type for your family's needs. Joe Taylor, owner of Carpets in the Park, has proudly seen it and done it all.
To really get to know the man behind the hardwood, Joe recently shared a few historical tidbits about himself, the company, and the many changes that he has seen in home improvement and flooring projects over the years.
It's time to meet Joe.
How did Carpets in the Park get started?
Well, I decided to start my own company after managing other flooring companies for over 10 years. My stock in trade was all of the knowledge and experience I received over the years with those other companies. I realized very early on that that three key components must be in place always in order to be successful:
You must be the best in quality, service and price.
Over the past four decades, how have you and the company grown?
Keeping those three components of success in mind, I have been able to expand the service area for Carpets in the Park from just a small storefront on Milwaukee Ave towards an area that covers Roosevelt Ave all the way to the Wisconsin border. We also have an office in Chicago near the Loop and a flooring showroom in Mundelein where customers can get a real feel for the materials they can pick out for their homes or commercial offices.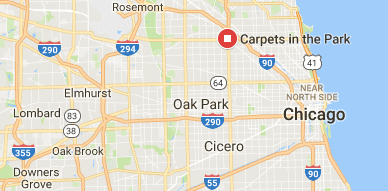 I contribute the success of this business to our relentless efforts to be the best in quality installations. I learned also long ago that a person is only as good as the many people around them. So, applying that mindset to my business operations: my installers are just simply the best when it comes to quality workmanship. I am very blessed to have the same crews working with me for over 15 years.
What part of the flooring process are you most enthusiastic about?
I get excited when manufacturer R&D departments come up with interesting new technologies. I really think that the next best thing in flooring is the Mohawk Flooring "SmartStrand" carpeting fiber that I recommend for homes with kids or pets because the carpet is stain resistant, which is perfect for areas of the home with high traffic. Luxury vinyl laminate flooring is another winner because even though it's a durable laminate option, it looks so real — it looks just like hardwood flooring and you can't really tell the difference between that and actual wood. You get the same results and effect without the steep cost of materials.
I'm always very enthusiastic at the start of a project with seeing what needs to get done and how to solve my customers' problems of either updating their existing flooring or being a part of their entire renovation process. I'm even more excited and pleased seeing the satisfied look on their faces after the project is completed. It's a very rewarding feeling, and I'm proud that I have been able to serve the greater Chicago area with my expertise over these many years!
---
If you would like to get started on your own home project, set up an appointment for a free in-home estimate. We will come right to your door to measure out the dimensions of your new carpet, hardwood, tile, or laminate flooring! Just sit back, relax, and let us do all the heavy lifting.